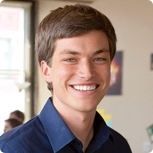 Emerson Spartz is the CEO of Dose, one of the world's fastest-growing digital media companies with 50 million unique visitors per month. Dose, the company behind Dose.com and OMGFacts.com, has raised $35 million in funding.
Named "The Virologist" by The New Yorker, Spartz is one of the world's leading experts on internet virality and has been featured in major media including the Wall Street Journal, Forbes, Inc, CBS, CNBC, and CNN. Spartz was named to both Forbes' and Inc Magazine's "30 Under 30" lists.
At the age of 12, Spartz founded Mugglenet, the #1 Harry Potter site and one of the largest websites of the early 2000s, which attracted 50 million page views per month. By the age of 19, Spartz became a New York Times bestselling author after publishing his first book.